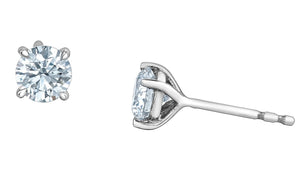 From the Diamond Evolution Collection-Nature Untouched ™
These lab grown round brilliant diamond stud earrings are the perfect choice for a classic and timeless look. Expertly crafted, each diamond is half a carat with round brilliant cut. Unbeatable quality and price.
Lab grown diamonds are high quality certified diamonds, produced through cutting edge technology replicating the formation of a mined diamond. They have the same physical, chemical and optical properties as a mined diamond, with a sparkle equally as brilliant.
14K White Gold
Two Lab Grown Round Brilliant Diamonds Total Weight 1.00ct With SI1-SI2 Clarity And D And E Colour
Item # LD4336W/100