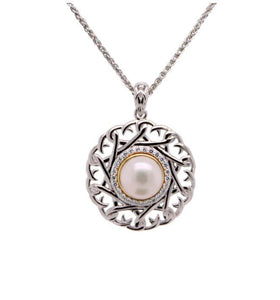 Adorn yourself with the elegance of Keith Jack's Aphrodite Freshwater Pearl Necklace. Inspired by the goddess of love herself, each pearl serves as a reminder of the beauty and joy found in life and love. Crafted with precious freshwater pearls, the necklace is an exquisite symbol of timeless beauty.
When Aphrodite, the goddess of love, sheds tears of Joy, they turn into Pearls as they return to the Ocean. 
Sterling Silver and 10k Yellow Gold with White Fresh Water Pearl and Cubic Zirconia
This pendant comes on a light Spiga style chain.
Dimensions (width x height): 1" x 1 3/8"
Height is measured from the top of the bale to the bottom of the pendant.