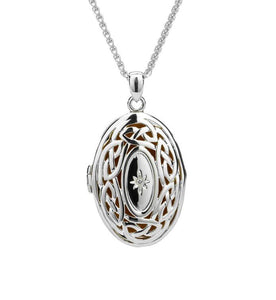 Access the realm of the eternal with the Keith Jack Window To The Soul Locket. Crafted as a reminder of the Celtic tales of journeys between the physical and spiritual worlds, this beautiful locket serves as a key to your most powerful force -- your unending soul. Unlock the mysteries of the infinite with the Keith Jack locket.
Sterling Silver With 22K Yellow Gold Gilding
Dimensions (width x height): 1" x 1 3/4"
Height is measured from the top of the bale to the bottom of the pendant.
Pendant comes on an 18in medium spiga style chain
One Round Diamond
Item # PLX3749