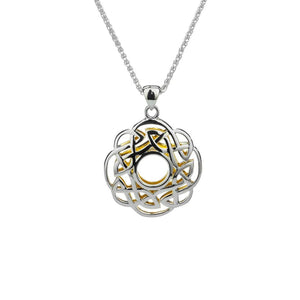 This lovely pendant is made of sterling silver and features the warm glow of 22k gold.
Celtic legend is ripe with tales of people moving between the physical and faerie realms. With the passage of time it is now only our souls that can pierce this veil between worlds. This is because our souls are eternal, like the spiritual world, without beginning or end.
Sterling Silver and 22k Yellow Gold Gilding
This pendant comes on an 18in light Spiga style chain.
Dimensions (width x height): 1" x 1 1/4"

Height is measured from the top of the bale to the bottom of the pendant.
Item # PPX4808